Perfect Keylogger for Mac - Full Version review
With Perfect Keylogger for Mac we are happy to offer you the most comprehensive monitoring features, lifetime license, lifetime updates and tech. support - and the lowest price on the market! Just compare our offer with competition and you'll see we are really ahead. Why pay $100 and more for a similar software and then pay even more for updates? The honest pricing and quality is the way we are earning customer trust since 2002.
Starting with Perfect Keylogger for Mac

The full version of Perfect Keylogger for Mac is available as a download immediately after purchase. You'll also receive the installation guide and examples of email settings. We'll be happy to help you with any question or technical issue.
Perfect Keylogger for Mac Full Version - what can it do?

Perfect Keylogger for Mac is a great tool for concerned parents - it helps them to keep an eye on their children's online activities. People also use it to catch a cheating spouse and for many other purposes. It records ALL keystrokes typed in EVERY application. It also records websites visited in all popular web browsers and captures both ways of chats from many popular instant messengers.

With screenshot recording option, you'll be able to capture a series of screen images and review everything later using a slideshow playback.

The full version offers much more monitoring and customization options. You'll be able to monitor all users accounts on your Mac from the Administrator account, receive all activity reports by email or send all reports directly to another computer in your network.

The full version also includes a simple website blocking option - so you can easily block unwanted websites.

And of course, this version is much more undetectable than free edition.
The most compatible and tested Mac keylogger

Perfect Keylogger for Mac is reliable solution, which has been fully tested and compatible with all recent versions of macOS, including macOS 10.11 El Capitan, 10.12 Sierra, 10.13 High Sierra, 10.14 Mojave, 10.15 Catalina, macOS 11 Big Sur and finally macOS 12 Monterey! Legacy Mac systems are supported as well. Thus our Perfect Keylogger works on 99% of all Mac computers on the market.
Perfect Keylogger for Mac Full Version - what is included?

The Full version is actually a bundle of the main keylogger application and the password recording add-on. You'll get both downloads after purchase, and everything is just for $39.95! If you're ordering from Europe, you can choose from German, French, Spanish, Italian, Dutch and Norwegian localizations. For the list of all features and comparison table, please visit this page.
Order, download and install in 10 minutes

>>> Click here to purchase Perfect Keylogger for Mac Full Version now
Perfect Keylogger for Mac Full Version - Screenshots

Retina display support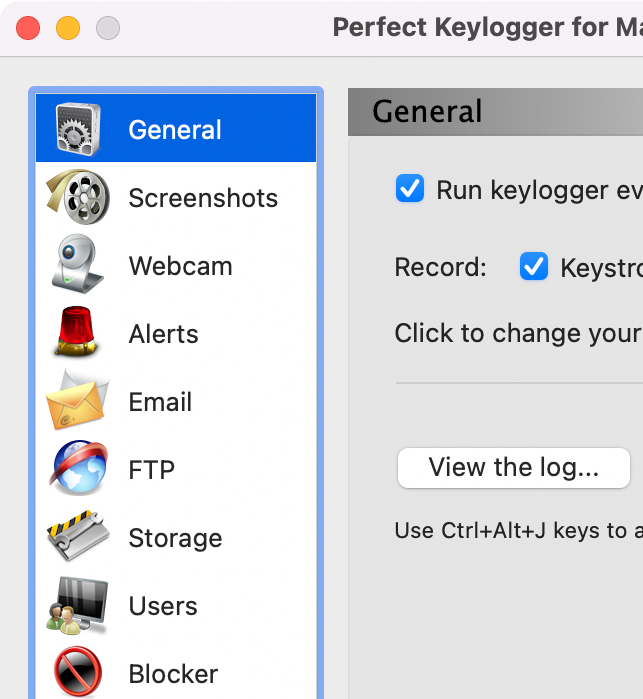 Options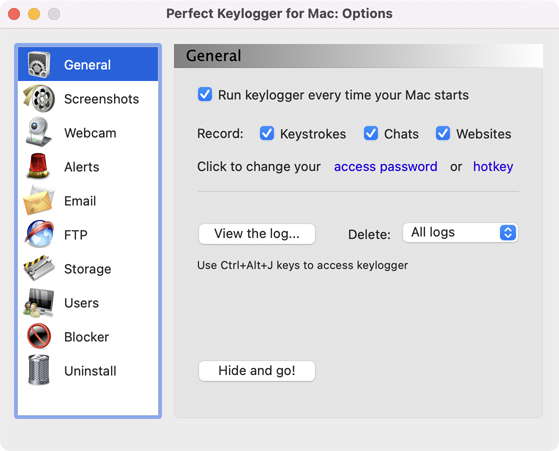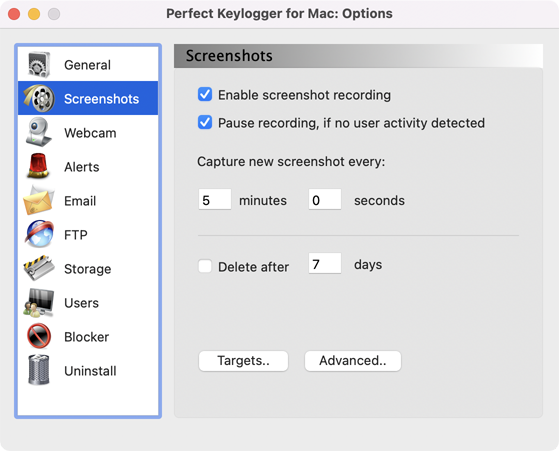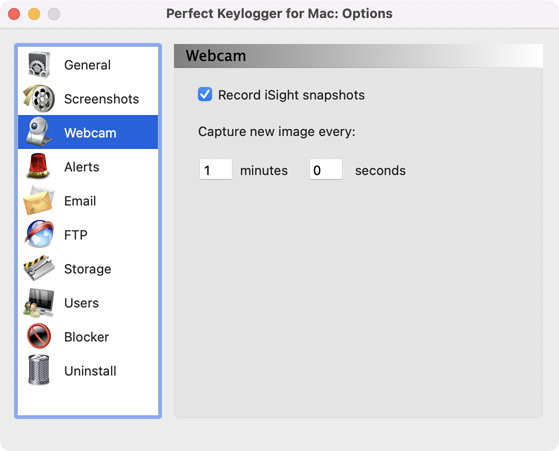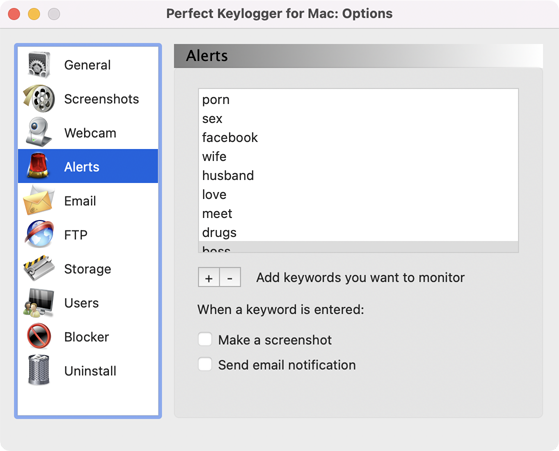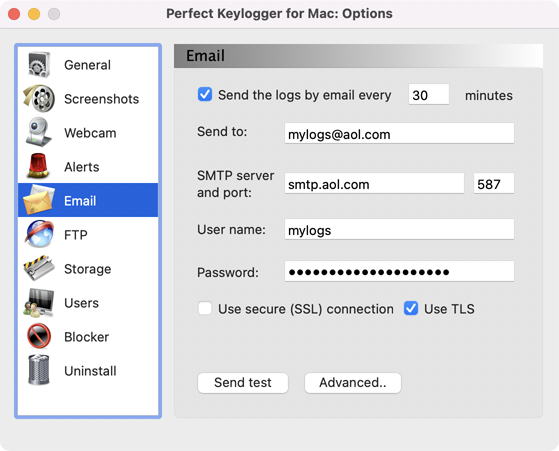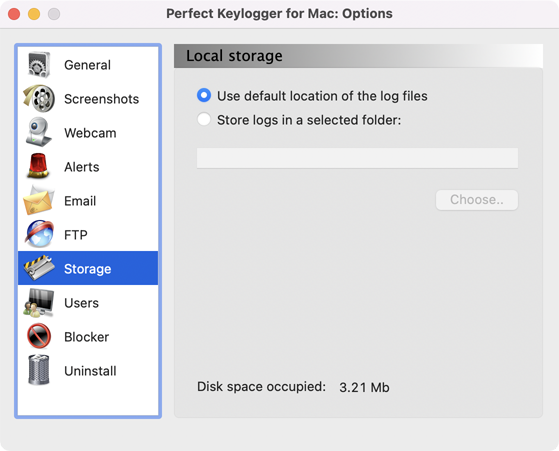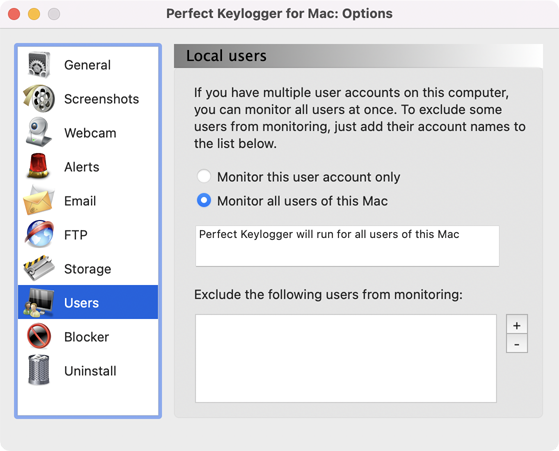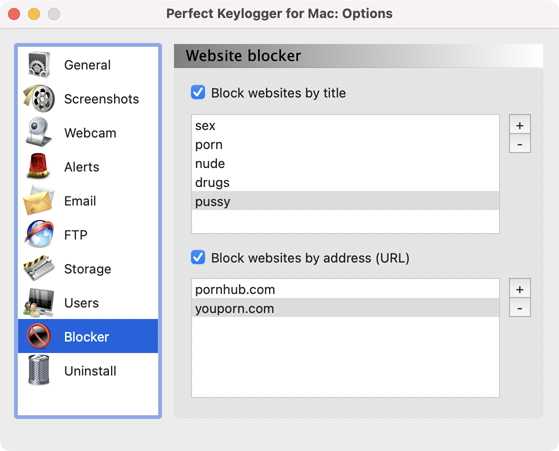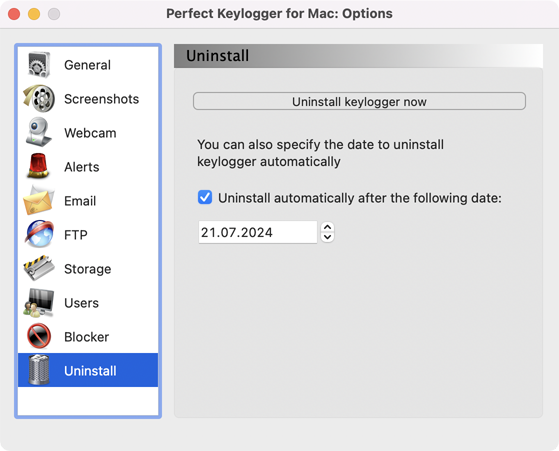 Log Viewer